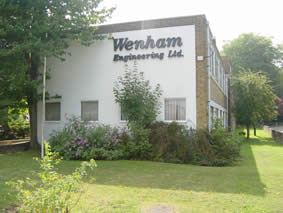 Above, is a photo of our building back in 2004, We now operate under Wenham Profiles Ltd due to additional capabilities.
Wenham Engineering Ltd was originally established in 1968 and started initially as toolmakers and precision engineers.
Over the following years we expanded into the fields of designing and building special purpose machines, test fixtures and prototypes for the; Electronics, Telecommunication, Pharmaceutical and general engineering sectors.

In 2010 we started investing in laser technology and purchased our first 4KW Trumpf Laser machine. We haven't looked back since. As part of our expansion into fabrication work we decided to re-energise the business with a new company name. Wenham Profiles Ltd was born.
Both sides of the business are doing well and we have growth plans going forward. We are passionate about our business and providing an all round machining solution.
The investment in technology is important to us so that we can continually challenge the landing prices to our existing valued customer base, and for prospective new clients.
Currently we are in the process of growing our fabrication capabilities with a new equipment acquisition secured.
We are able to offer the following services:
CNC Machining.
Turning.
Milling.
Laser cutting / forming.

Head skimming.
Vapor Blasting.
Sand Blasting.

Design, build and commissioning of test rigs for the electronics industry.
Design and build of prototype and special purpose machines.
Prototype machining.
Mechanical design.
Project management.
Service and repair of press tools.
Welding.
All fabrication work.




Below are just a few market sectors we currently service:




Film Studios / Set Making